Leaders in the Auction Industry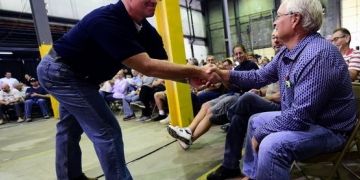 AJ Willner Auctions was founded in 1925, making us the oldest and largest commercial auction firm in New Jersey. We are honored to be the auction firm of choice for the Federal Bankruptcy Court, the US Marshals Service and various commercial lenders. We have decades of experience and are leaders in the industry when it comes to liquidating machinery, equipment and inventory.

With over 100 years of collective experience in the auction industry, our team of auctioneers is passionate about delivering the highest quality services to our clients in New Jersey and beyond. Whether you're looking to sell your assets, downsize, or liquidate your business, we're here to help. Let's take a closer look at some of the services that we have to offer:
---
Equipment Auctions
Is your business going through a restructuring or closing down? Our equipment auctions can help you liquidate your commercial assets, including machinery, trucks, and supplies. We've conducted auctions for businesses in a wide range of industries, including construction, manufacturing, healthcare, and many others.
We'll work with you to understand your equipment and create an auction strategy that can help you maximize your returns.
---
Appraisal Services
If you're not sure how much your assets are worth, we offer appraisal services that can help you get an accurate estimate. We have a team of certified appraisers who'll take the time to understand your assets and provide a detailed report on their value.
---
Liquidation Services
If you're looking to close your business, our liquidation services can help you sell your assets and pay off your debts. We understand that businesses go through tough times, and we'll work with you to create a liquidation strategy that can help you recover some of your investment. Our liquidation services include appraisal, advertising, auction logistics, and post-auction reporting. With our help, you can sell your assets and move on to your next venture. Let A.J. Willner Auctions in Riverdale, NJ Help You!

At A.J. Willner Auctions, we're passionate about helping our clients get the best value out of their assets. Our auction services cover everything from estate auctions to online auctions, and we pride ourselves on delivering exceptional customer service. Whether you're looking to liquidate a business or appraise your assets, we're here to help. So contact us today to learn more about our auction services and how we can help you achieve your goals.

Custom Tailored Auction Marketing Campaign
"Research has shown that 90 percent of an auction's success is based on marketing capabilities of the auctioneer. The real work is done well in advance of the first bid!"
A.J. Willner Auctions conducts a comprehensive pre-auction marketing campaign. Prospective markets are targeted well in advance of the all important auction date to assure a prime audience of ready bidders.
Auction Brochure & Targeted Bulk Mailing

Utilizing several different databases we create a professionally designed color Auction Brochure targeting: Industry Competitors, Metal Fabrication Facilities, Equipment Dealers & Bidders who have similar auctions over the last several decades.

Print Media

Professionally designed, "Auction Display" ad placements in the business section of The Star Ledger, New York Times and various trade magazines extends our advertising campaign even further.

Internet Bidding

AJ Willner Auctions is partnered with a third party on-line bidding platform which allows bidders to participate from anywhere in the world. With a massive network of global buyers, this on-line platform provides added exposure to the global marketplace, making buyers literally, just a click away.

ajwauctions.com

A Featured Auction listing on the AJ Willner Auctions web site, profiling the auction in the global marketplace, allows perspective bidders to view photos, download the auction catalog, and other auction info. The auction will be cross-promoted with our other auctions, posted weeks in advance, enticing perspective bidders to attend.

Internet Marketing

Search Engine Optimization - Commonly known as SEO, a practice used by web developers to allow search engines to pinpoint relative content throughout the internet. In turn, exposing the auction to a massive pool of potential bidders.

Pay Per Click Ads - Multiple auction related advertisements are triggered to appear when relevant keywords are entered into a web browser.

3rd Party Web Placements - Design and placement of advertising on industry specific, 3rd party websites.

Bulk Email Blasts

Via targeted email blast, our marketing campaign extends its global reach. We utilize our proprietary email list of over 13,000 buyers who have "opted-in" for information on upcoming auctions. Not a "spam" list, these are buyers who have registered on our company's website. AJ Willner Auctions conducts over a hundred auctions a year and has a massive email list of motivated buyers to prove it.

Customer Service

A full time staff of auction professionals, at our Lodi, NJ based auction facility, is devoted to assisting perspective bidders with auction related inquires up to and including the day of auction.
---
Physical Preparation
Once contracted, our team of trained auction personnel will inventory and prep the equipment to be sold. Extra attention is paid in order to display in a fashion conducive to auction.

Auction bidders bid often on impulse, making auction merchandising an important factor in driving prices.
---
Auction Day
Our team will handle everything related to conducting a successful auction. We will facilitate a pre-auction inspection for perspective bidders to preview the assets. Auctioneers, Mike Sklar & Harry Byrnes will be at the helm handling the bid calling, while the rest of our team oversees:

Bidder Registration
Roving Security
Auction Bookkeeping
Collection of Deposit Money
Phone& Internet Bidding
Customer Service & more
---
Removal
Over the days following the auction, our team will collect outstanding balances from the buyers and supervise the removal of the assets from the property, ensuring the utmost care for the condition of the facility.
---
Final Accounting & Payment
At the conclusion of the auction, our firm will forward the auction sale proceeds together with a complete financial recap to your office.