Real Estate Auctions
AJ Willner Auctions, through a strategic partnership with Newmark Associates Commercial Real Estate, can offer a variety of solutions in business liquidations for all types of real estate. Whether by conventional listing or accelerated auction marketing, our professionals can offer a tailored solution to work within your parameters.
Our real estate auctions offer a variety of advantages such as 30-day closings and no contingencies. However, the accelerated auction marketing systems provide maximum results within shortened time parameters. Over the last decade, we have successfully closed over 90% of our auction transactions.
Our commercial insolvency auctioneers conduct 60 to 70 commercial/industrial auctions a year. We are able to reach a wide network of end users in a variety of industries. AJ Willner Auctions has built a vast network and developed business relationships with thousands of business professionals in manufacturing, construction, warehousing, and the retail sector.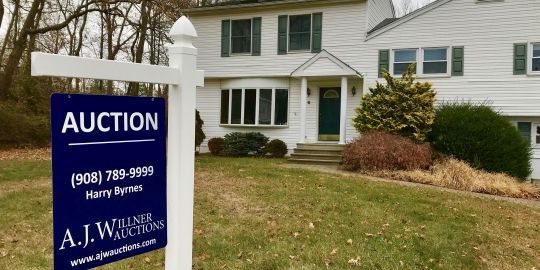 "We are seeing occasions where our buyers of equipment and inventory
are purchasing property at our real estate auctions."
-Harry Byrnes, Auctioneer
The principals at AJ Willner Auctions are New Jersey licensed real estate agents and have a strong knowledge of local real estate conditions. Our experience, knowledge and commitment to our clients ensure the highest quality of service and success.
Should you or your company, require our services, contact us at AJ Willner Auctions today for a confidential discussion.
Office: (908) 789-9999 | questions@ajwillner.com